Workshop/Lathe
From Leeds Hackspace Wiki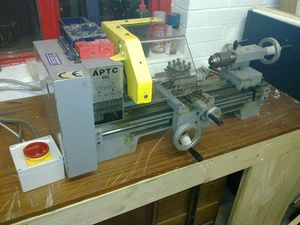 The Basics
We've got an APTC 460 lathe. Vital statistics are as follows:
1.5hp motor
250/650/900/1700 RPM
100mm chuck
460mm between centers
MT2 tailstock (currently fitted with a 13mm drill chuck)
Our lathe is suitable for turning metals and plastics. Aluminium, brass, copper, delrin/acetal and nylon shouldn't present any problems. It should be possible to machine mild steel too, though you may find some additional cooling is necessary.
Safety
Always ensure the chuck key is removed before attempting to operate the lathe.
Ensure the work is securely fixed in the chuck.
The lathe will not run unless the guards are in place - this is for your safety, do not try to defeat this.
Swarf is SHARP - gloves are available in the box by the lathe.
Don't attempt to start drilling holes with a normal drill in the tailstock chuck - use a centre drill to create a pilot hole first.
Go and check you removed the chuck key again.
Tools
We currently have:
A selection of carbide tipped tools
2x13mm drill chucks and a live center for the tailstock
Center drills
Knurling tool
We'd like:
Quick change tool post (but we're struggling to find one that'll fit)
Spares
Drive Belt

Gates 5M690