Electronics/LA3200
Logic Analyser
32 channel
Equipment Information
Status
Unknown
Manufacturer
Thurlby Thandar Instruments
Model
LA3200
Hackspace Information
Induction Required
Yes
Induction Information
Here
Card RFID Enabled
No
Owner
Hackspace
The Basics
A logic analyser (analyzer) is used to probe digital signals in an electronic circuit. One example would be the digital input/output pins on a microprocessor such as an Arduino. The signals are displayed on a screen in the form of a timing diagram so that they can be compared against each other or against a timing reference.
The logic analyser uses an external POD and cables to attach to the digital circuit. Different PODs are available for different functions. The POD we have is not an original part it was generated from the service manual.
Requires the following improvements:-
Clock inputs need testing
32 logic inputs proven to operate at low speed
25 MHz operation needs testing
Enclosure needed for POD PCB
Note that there is no input protection to the POD, therefore over-voltage may damage the POD.
Documentation
Manuals can be found here just search for LA3200.
According to this thread the pinout for the RS423 serial port on the back is:
2 - 3
3 - 2
4 *
5 - 5
6 *
7 - 8
8 - 7

(-) = link to
(*) = short together at pc end

The device is apparently identical to a Hitachi VC3120.
Pod photos and even a PCB design for replacement pods can be found here.
Specification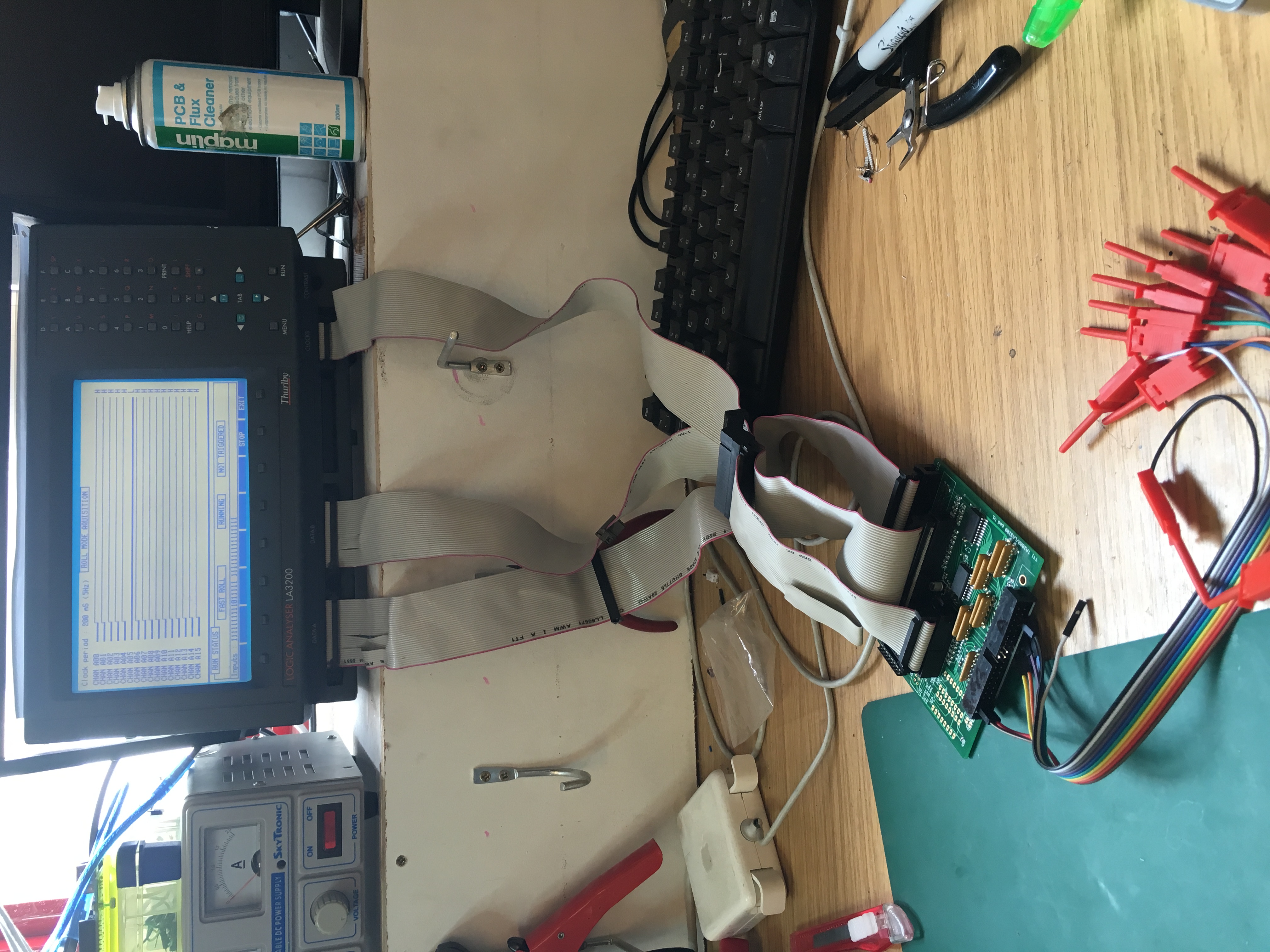 Logic Analyser
32 channels (LA3200)
25MHz synchronous operation on all channels
100MHz asynchronous operation (8 or 12 channels)
5ns glitch capture capability
Multi-level trigger sequencing
Non-volatile data and set-up memories
Disassembler options for popular uPs with specific PODs
POD AP01 for 32 channels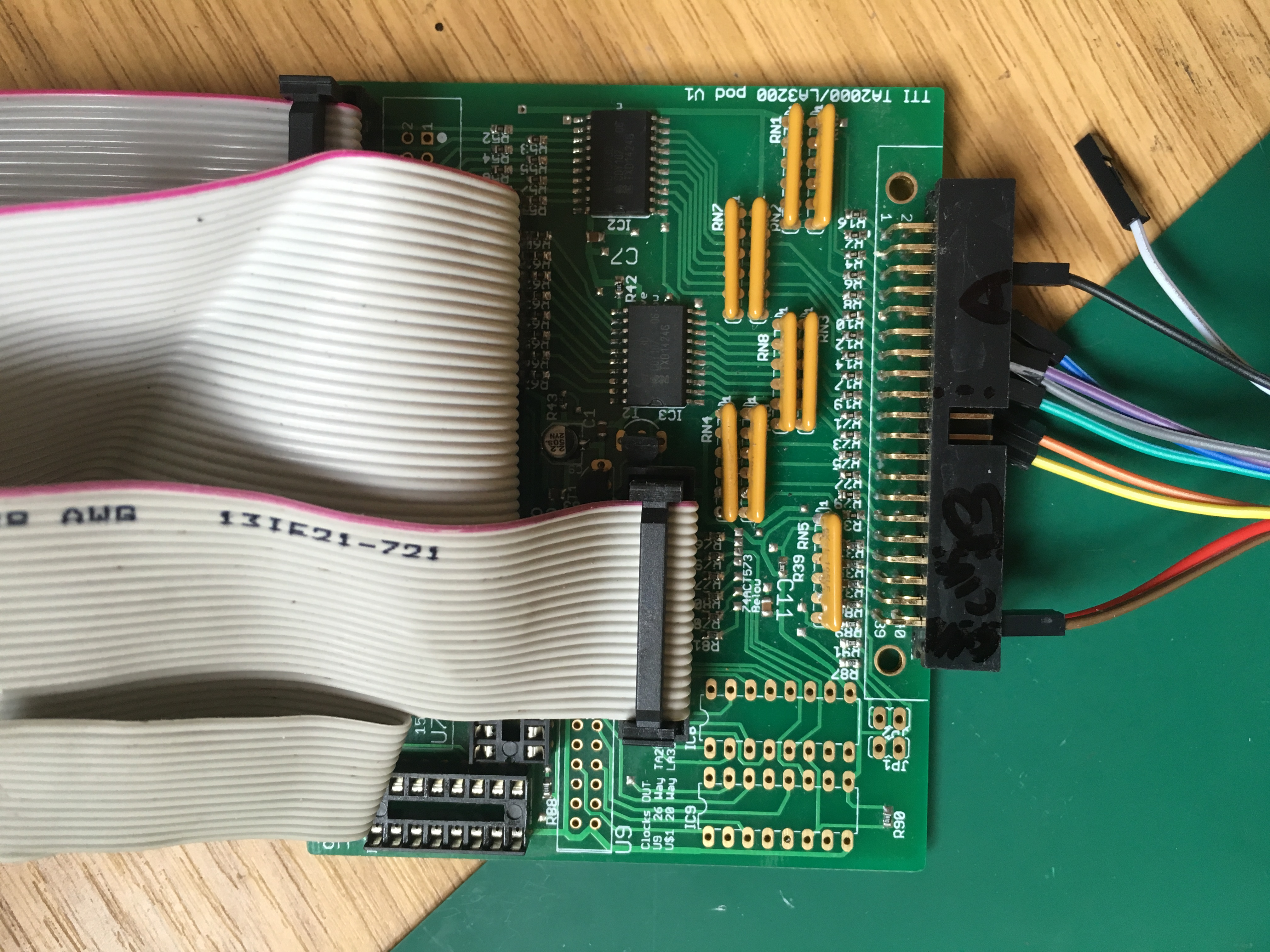 Combination data pod AP01
This is an assumed specification:
Obtained from ebay user robhookham, recreated from the service manual schematic
32 data inputs (DC to 25MHz)
No 100MHz or glitch capture capability
No location for the disassembler ROM, this would need extra circuitry (TBD)
3 clock inputs
3 clock qualifier inputs
Input impedance 100k/5pF
Threshold TTL (1.4V)
Single 40-way connector with colour coded plug-on connection leads
The POD board's Eagle CAD files are available
Calibration
Not required
Induction
Ask on the mailing list for volunteers to demonstrate the use of any of the test equipment.
Basic Use
Only connect to 3.3v or 5v circuits. Higher or lower voltage may not operate correctly or may damage the AP01 Pod.
There are weak internal pull-ups in the POD, therefore unconnected lines will be high.
Turn power on at the rear of the Logic Analyser
Select menu item via the button at the bottom of the screen
Either setup the analyser using menu item 1 or load a default setup from the store/recall menu item.
Select either timing diagram or state listing
You may wish to setup a trigger type
Press Run button on the bottom right
Select the type of analysis
Safety
You must read the safety documentation in this link before using this equipment.
Useful References