Electronics/RigolDS1074Z-S-PLUS
Oscilloscope
Digital oscilloscope
Equipment Information
Status
Unknown
Manufacturer
Rigol
Model
DS1074Z-S PLUS
Hackspace Information
Induction Required
Yes
Induction Information
Here
Card RFID Enabled
No
Owner
Hackspace & Members
The Basics
An oscilloscope is a piece of electrical test equipment which allows you to visually see an electrical signal on a display.
The Rigol DS1074Z-S PLUS is a high quality four channel 70MHz bandwidth digital storage oscilloscope with built in 25MHz bandwidth 2 channel arbitrary waveform generator and the option for external logic analyzer probe. The logic analyzer probe is purchased seperately - or made!
Safety
You must read the safety documentation in this link before using this equipment.
Specification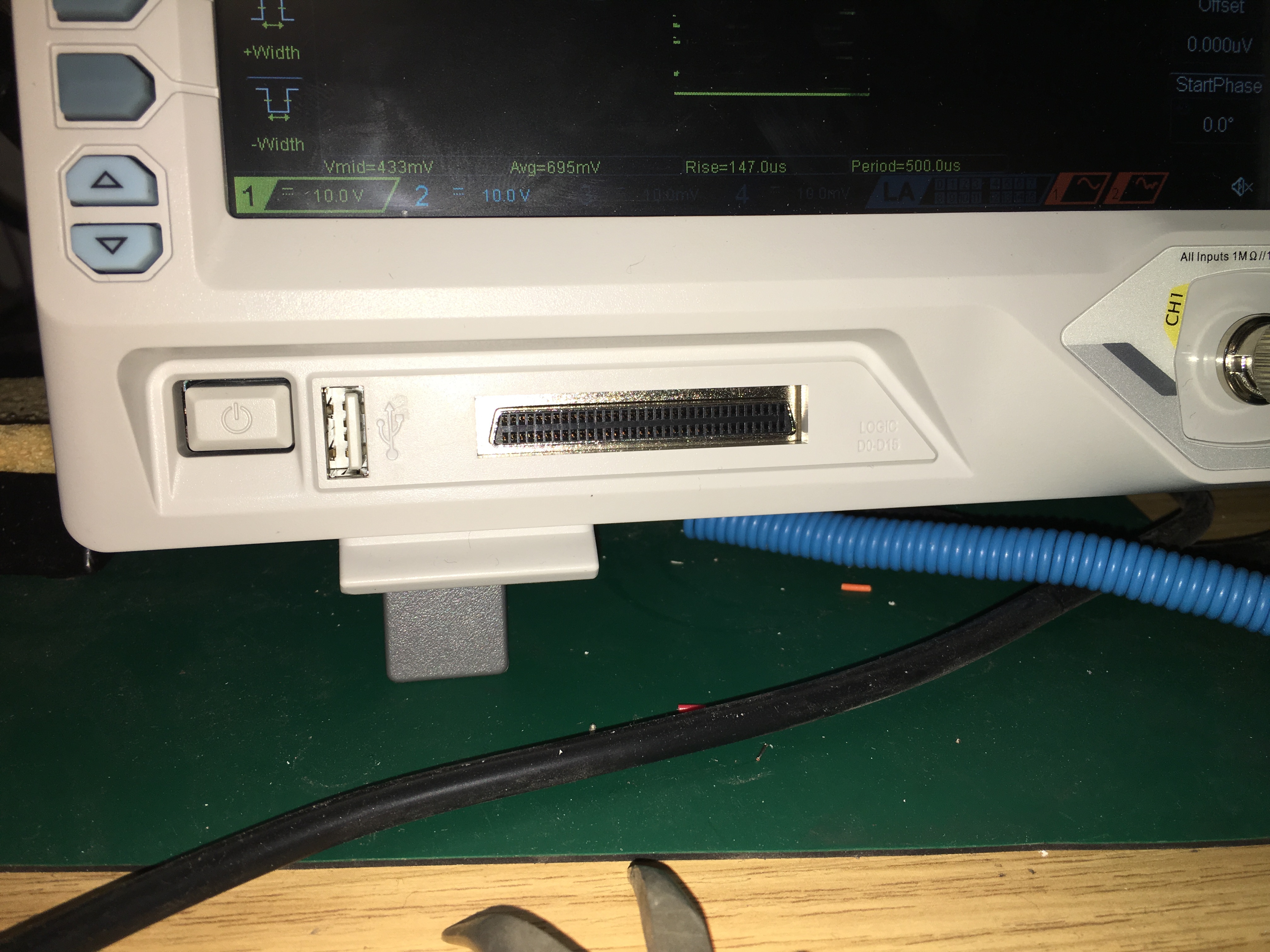 Rigol DS1074Z-S PLUS
Digital storage oscilloscope
4 channel analog input
Bandwidth: 70MHz, (hackable to ~130MHz, rated 100MHz max)
1GS/s real time sample rate (no equivalent-time sampling, but it doesn't really need it)
12Mpts memory depth (hackable to 24Mpts)
FFT frequency display mode, which can work over the full memory.
25,000 waveforms/sec update rate - means the X-Y mode works quite well as a vector display
2 channel 25MHz waveform generator with arbitrary capability and 10Vp-p output, roughly 100MSPS sampling rate
PLUS model allows optional upgrade (extra cost) to make it a MSO1000Z-S by purchase of the external digital logic probes (RPL1116, 16 channel + 16 ground). However, please note that only two analog channels can be used while both digital "blocks" are in use.
7 inch WVGA multiple intensity levels waveform display (800x480 pixels, high resolution)
USB - will save PNG screenshots. Press green print button to take a screenshot to attached USB.
Ultravision technology
Optional analysis and decode packages (to be hacked, if we determine the need.)
Hacks: Hackable options. not hacked yet.
Issues: TBD
Manual: TBD
Calibration
For last calibration date, check the side of the unit.
It is common to perform a basic oscilloscopes calibration check before each use against a known calibration source to confirm it is suitable for use. Most oscilloscopes have a calibration signal output point on the front panel. Some have rear panel outputs.
An instrument like this is not expected to require calibration for typical hackspace usage. The onboard signal generator can potentially be used for calibration. The instrument also features an internal self cal. This is accessed from the Utility menu. Be certain to keep probes disconnected from the instrument while performing this test, as failure to do so may damage the instrument.
Induction
Ask on the mailing list for volunteers to demonstrate the use of any of the test equipment.
Because of the expense and complexity of this unit, it is highly recommended that you seek induction before attempting to use it.
Useful References