Electronics
Jump to navigation
Jump to search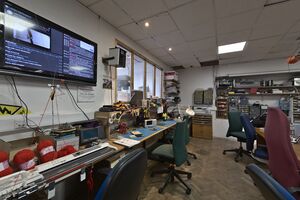 Here you'll find details about the Electronics workshop, what test equipment we have and any available documentation.
Safety
You must read the safety documentation in this link before using the equipment.
Safety is key, do not take un-necessary risks. You are in an environment with inexperienced people around you. Be considerate of everyone's safety.
Equipment
Maker boards, modules and development tools
Other Equipment and Tools
Small oven for reflow of SMD PCBs using solder paste
Function generator - members project
Digital handheld multimeters, about 6 off, various types
Various oscilloscope probes, choose a probe with a larger bandwidth than the oscilloscope
Assortment of test leads
Various other soldering irons - about 5 by the last count
Bench lamp with magnifier
Magnifier headset
Tools
Wire of various sizes
Components free for members use within reason and some to buy which are owned by members
PCB Etching
TBD ask on the mailing list what the current status is. Update this section as soon as this changes!
Things we'd like
Full size antistatic table mats
Component sample books - SMD and TH, caps, res, inductors
PCB shears
Microscope
Bus pirates
PAT tester (newish or in cal)
Bench multimeter (eg 5 1/2 digits or more)
LCR meter
Power meter
Electronic DC Load
Current probes AC/DC scope and also meter types
Small pick n place
RF spectrum analyzer, 50 ohm, Hopefully with generator and return loss bridge (portable would be nice too:-) )
RF 50 ohm cal kit
RF frequency generators
RF power meter
External Resources
A good list of various electronics resources (services, tools, learning) can be found here: Awesome Electronics.
Schematic capture and layout packages
There are too many Electronics (EDA) design packages to name, but a few of the more popular ones are listed below.
Eagle CAD - Arguably the most popular hobby/maker level package. Has a free version, but is limited in PCB size and layers. Available on Windows, Linux and Mac. A lot of PCB fabricators offer to take the raw eagle cad files to generate your PCBs instead of you having to generate gerbers.
KiCAD - Open source unlimited layers. Much improved over recent years. Available on Windows, Linux and Mac.
Others are fritzing (open source cross platform), Design spark, circuitmaker,
Circuit Simulation
LTspice - Professional tool. Popular simulation software
Simmetrix - Professionsal tool. Free and paid for simulation software, node limited, but the limit is generous enough to use successfully
Various much simpler circuit simulation tools now exist
PCB Fabrication Companies
PCB fabrication is the act of making the PCB itself.
Huge numbers of PCB fabricators exist. Here are a few of the low cost companies. Most will accept Eagle PCB files directly instead of sending gerber files. Some fabricators provide design rule constraints files (.dru for eagle) used for your layout design rule checks (DRC). You should obtain these or input them before you start your layout as they will stop layout issues. Others fabricators provide gerber output CAM setup files for eagle. For KiCAD you will often have to set this up manually or via a PCB template. OSH park has some simple KiCAD design rule information on their website. One final thing is that many manufactures have a 'design guide' which is useful in understanding PCB technology and limitations.
Ragworm - UK. low cost PCB company
OSH Park - US. Good for very small PCBs. Other companies produce cheaper larger PCBs. Has an excellent PCB viewer which you can use to see how your files will look when made. Worth using just for this feature.
Elecrow - China. Cheap PCBs in many colours - arguably the cheapest around
Seeed studio - China. Similar to elecrow
ITead studio - China. Similar to elecrow
Wurth Direct - EU. High quality PCBs, higher pricing than others. Overly complicated design rule constraints for each of their many different PCBs, but track/gap specifications are much improved over the other companies mentioned above.
Various companies also make SMD stencils using, for example, mylar (cheap) or stainless steel (more professional long lasting)
Note: If your design has tracking which requires specific impedance controlled lines eg R.F. or high speed digital tracks such as USB, SATA, ethernet etc. You need to be aware of the boards layer stackup before designing the PCB. Here is just one differential signal Impedance Calculator. Properly tested impedence controlled boards are more expensive. You can usually get things working reasonably well with normal boards if you set them up correctly at the design stage.
PCB Assembly Companies
PCB assembly means putting the components onto the PCB.
We've no specific experience with low cost assembly companies to guide you with here. Though companies such as elecrow and other low cost PCB fabricators perform this service. Most PCB assembly companies have a stock of standard components. You will then supply the remainder of your components. Sometimes SMD reels are required and sometimes extra components are required due to losses when setting up the pick and place machines and ongoing losses due to dropped picks. If you are manufacturing small quantities with lowish component counts through hole is still an option, which many will hand assemble. In general you discuss these details with the assembly company before deciding whether you are right for each other.
Be aware that if your a hobbyist or are making a very low volume products, you need a manufacturer who fits you and your requirements. Large volume manufacturers will be less interested in you and your product. You may be put on hold messed around etc if your not important to them.